2023 Women's Leadership Forum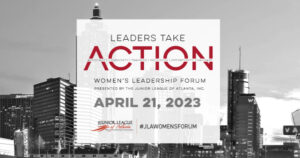 Join us for The Junior League of Atlanta, Inc. 2023 Women's Leadership Forum (WLF), a one-day conference devoted to developing the leadership skills of women throughout Greater Atlanta.  
The theme for this year's conference, "Leaders Take A.C.T.I.O.N.," will train members using four learning tracks focusing on both for-profit, non-profit sectors, with beginning and advanced levels.  
Each track aims to strengthen leadership skills through the lenses of Advocacy, Community, Training, Inclusion, Opportunity, And Navigation.
The Women's Leadership Forum will be held on Friday, April 21, 2023 from 8:00 AM – 5:00 PM at the Atlanta Metropolitan College. Tickets are available for purchase through Eventbrite.  
We encourage you to purchase your tickets early to take advantage of the Early Bird Pricing, which runs until February 1, 2023!
To learn more about the event, visit the links below: