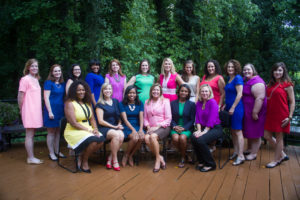 The Junior League of Atlanta, Inc. (JLA) Board of Directors provides vision across our multiple council systems to ensure that all our league programs are consistent with our mission. They guide our strategy according to yearly strategic priorities while serving as trustees and stewards on behalf of our members.
Deanna Anderson
President
president@jlatlanta.org 
Deanna Anderson is managing director for 705 Marketing where she leads the team in strategic planning, development and execution of integrated communications programs. In addition to the JLA, she serves on the marketing committee of SERV International to help promote their vision to build connections with communities in both Kenya and the Dominican Republic by serving nutrient-rich meals to millions of people. She also serves on the Angels on Earth luncheon committee. The Angels on Earth Luncheon is held annually to benefit Cancer Wellness at Piedmont, and provides education on the benefits of an integrated approach to cancer treatment and recovery. She is very active in both of her kids schools, Mount Vernon Presbyterian School and The Howard School. An avid runner, she is a volunteer coach for Girls on the Run at The Howard School. Deanna lives in Dunwoody with her husband Jim and children Carter and Reese.
Rebekah Henry Murphy
President-Elect
presidentelect@jlatlanta.org 
Rebekah is a native of Augusta, GA, having first joined the Junior League there in 2006 where she served on the board for three years before transferring to the Junior League of Atlanta in 2013.  She has over ten years experience in nonprofit leadership and arts administration, with expertise in fundraising, marketing, event planning, and strategic planning.  Her League work has extended to the Association of Junior Leagues International (AJLI) where she served for three years on a committee developing new governance and management models and on a task force developing membership engagement tools.   She received her Bachelor of Science in Management from Georgia Tech and her MBA from Augusta University.  She is a past recipient of Georgia Trend's 40 Under 40 and the Top 30 Under 30 Nonprofit Professionals in Georgia, and is an alumnus of Leadership Georgia and Leadership Sandy Springs.  She currently serves on the Board of Directors for Literacy Action and is a member of the Atlanta Speech School Guild.  Rebekah and her husband John P. Murphy and their son Henry reside in Sandy Springs.
---
Advocacy & Initiatives VP – Zenda Jones
Advisory Planning Committee VP – Sarah Barge
Assistant to the President – Erin Tollison
Centennial Committee Chair – Ursula Reynolds
Community Council VP – Joy Dyess
Director of Support Services – Sharon Klein
Fund Development VP – Lorin Young
Impacts & Measurements Chair – Holly Portier
Internal Operations VP – Joann Johnston
Marketing & Communications VP – Andrea Smith
Membership VP – Amy McClain
Nominating Committee Chair – Grayson Pratt
Parliamentarian – Carla Smith
Recording Secretary – Meghan Harrison
Sustainer Council Representative – Nancy Thigpen
Training & Development VP – Stacey Chavis