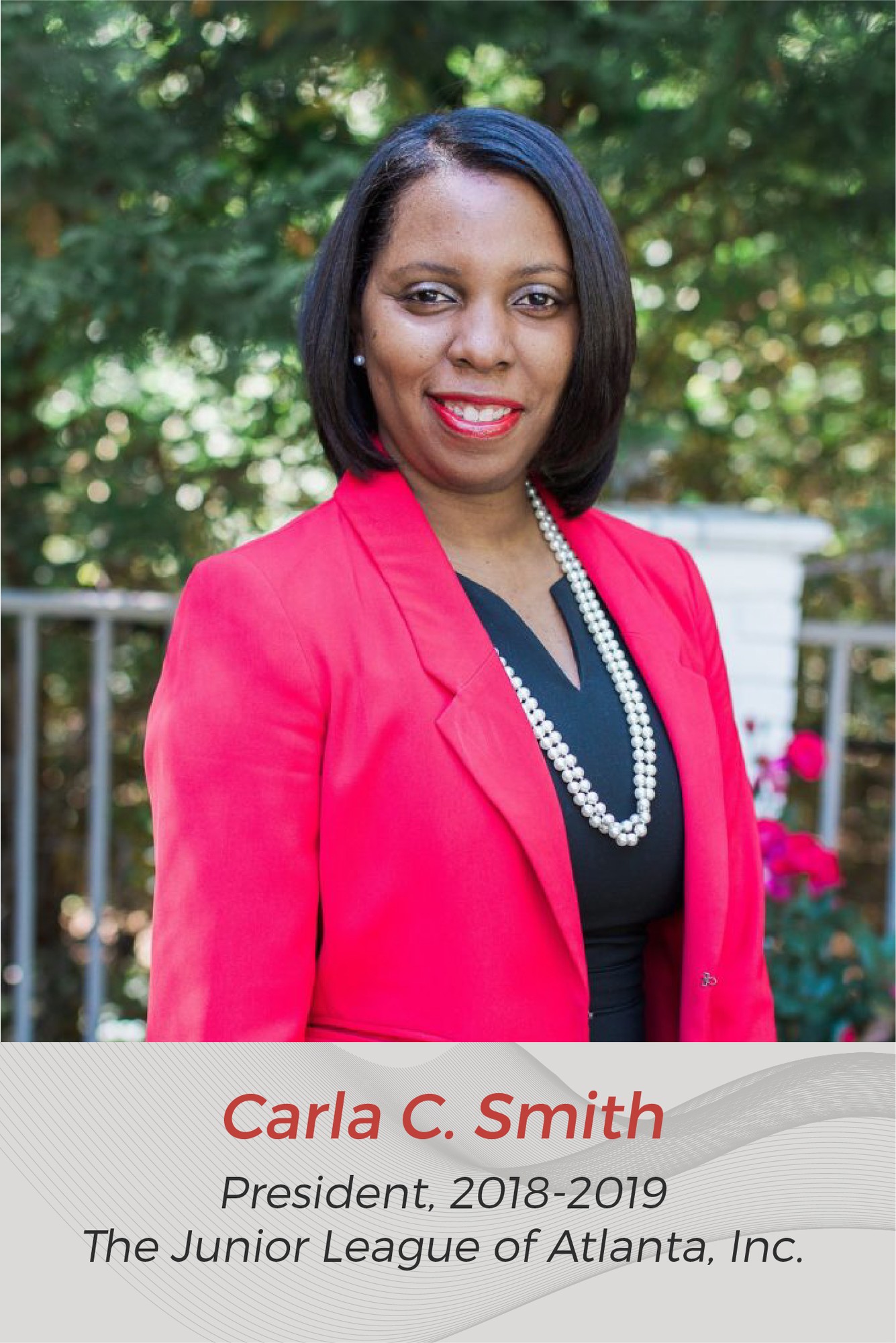 Welcome!
Welcome to the Junior League of Atlanta (JLA)! I bring you greetings on behalf of our membership comprised of a diverse powerhouse of more than 3,000 women. JLA is recognized as the third largest Junior League in the world and we are committed to promoting voluntarism, developing the potential of women and improving the community through the effective action and leadership of trained volunteers.
Founded in 1916 by 45 determined and unstoppable women, the Junior League of Atlanta was created on the belief that every member had an obligation to use her experiences, skills, talent, time and resources to improve the economic and societal conditions of others.
The legacy of the JLA continues to thrive and we have not wavered. Our 2018-2019 league year is inclusive of the launch of our new strategic plan which will further advance our mission. The plan is fueled by our commitment to make a positive impact on the Atlanta community through our pipeline of trained community and civic volunteer leaders, to be the place for Atlanta's service minded women to grow, serve and lead and finally to maintain a sustainable organization.
We are a group of women working diligently to tackle the city's most pressing and challenging issues and serving as a partner with other nonprofit organizations. We are also a critical volunteer resource and catalyst for positive change in the areas of early childhood education, commercial sexual exploitation/human trafficking and generational poverty.
We are at the forefront and instrumental in the creation and development of many community agencies and initiatives and our efforts remain focused on improving the health, education and well-being of women and children.
We challenge the status quo and are united in our shared interest of "Building a Better Community."
WE are the Junior League of Atlanta!
I invite you to explore our website further to learn more about us. Thank you for your interest in JLA and support of our mission.
In Service,
Carla C. Smith
President, 2018-2019
The Junior League of Atlanta, Inc.
Women Transforming Communities

Find us on Facebook, Instagram & Twitter 
DON'T MISS OUR PRESIDENT ON TWITTER AND INSTAGRAM!
Click here to follow Carla.