See: JLA's Powerful Impact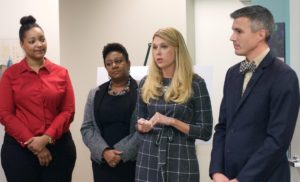 Less than a year ago, JLA announced a $100,000 investment in youthSpark's Building Better Futures campaign to fund a new Youth Services Center. Envisioned as a safe space for sexually exploited youth to disclose their abuse, the Youth Services Center would allow at-risk youth to be screened for signs of abuse or sexual exploitation while simultaneously connecting them with life-changing restorative services.
Eight months later, youthSpark's dream was a reality: the Youth Services Center debuted on Nov. 15. The formal ribbon-cutting ceremony also included the debut of Junior League's room within the Center, the Opportunity Room.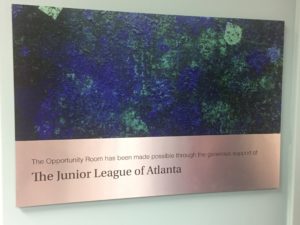 JLA has established itself as a Statewide leader in combatting CSE/HT. It is incredible that in our Centennial year, the League was able to make — and celebrate the results of — such a powerful contribution. The Youth Services Center is just another example of JLA's commitment to bettering the lives of women and children in our community.
For more information about how JLA is working to combat CSE/HT, visit our advocacy page.