Generational Poverty Overview
WHAT IS GENERATIONAL POVERTY?
Generational poverty occurs in families where at least two generations have been born into poverty. The JLA adopted this issue in 2013 due to its prevalence in our state. Georgia is the 6th worst state for child poverty, with more than one quarter of its children living in poverty. Many of Georgia's children are struggling to have basic needs met. Growing up in poverty is one of the greatest threats to healthy child development; and poverty and financial stress can impede a child's cognitive development and their ability to learn.
The JLA is committed to eradicating generational poverty in the greater Atlanta area, and through efforts like LBDI, we as an organization are able to provide critical education on this issue and raise money to effect change.
Below are recent statistics regarding generational poverty in our community: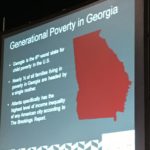 21.6% of Atlanta's population lives in poverty. – U.S. Census Bureau
Generational poverty in Atlanta is predominate in single, female heads of household with children. – Georgia Budget and Policy Institute Report
31% of Atlanta's children live in poverty, and 20% of Georgia's children do. – Annie E. Casey Foundation Kids Count Data Center
14.7% of Georgia's population lives in poverty, compared to 12.3% nationally. – U.S. Census Bureau
Atlanta has the worst upward mobility of any major metro in the country. Only 4% of Metro Atlantans born into the bottom 20% of income ever make it to the top 20%. – Curbed Atlanta