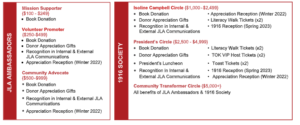 If you would like to have your company match your gift, click here.
NOTE: To donate an amount greater than the minimum, please enter that amount in the "Or enter any amount" field. Any amount over $1,000 annually qualifies as a member of the 1916 Society.
If you are a JLA member, please click here and log into the Member site before you make your donation or it will not be credited to your account.  Thank you for your support!
Thanks to our 106th Year 1916 Society Members & Top Donors: Katherine Bosio, Christine Brodnan, Carol Coleman, Jennifer Coxen, Andrea Goolsby, Sandra Morelli, Tara Rich, Aquaria Richardson-Smith, Cassandra Seibles, Stephanie Wise, Nancy Almquist, Keshia Appkins, Kathleen Ashe, Terri Badour , Krystal Barnett, Stacy Brees, Kate Buckham, Cynthia Clanton, Frances Cowart, Tara Craighead, Courtnay Davis, Winifred Davis, Cassandra Frazier, Laura Guerin, Chermaine Guice, Joyce Hamilton, Ainsley Hamlin, Jennifer Heffron, Elizabeth Henry, Kelli Keb, Anne Knauf, Julie Labbe, Olivia Langevine, Liz Loreti , Lori Mintz, Lezlie Renee' Pipes, Jennifer Rose, Alex Seblatnigg, Laura Smith, Jane Smith, Lizanne Stephenson, Charlotte Terrell, Macie Thompson, Nellie Thompson, Ciji Townsend, Chelsea Ulrich Tarnoff, Tameeka Walker, and Jessica Wallace