In addition to providing much-needed volunteer resources and funding to nonprofit agencies in the Atlanta community, the Junior League of Atlanta, Inc. (JLA) also presents the following signature community projects and programs: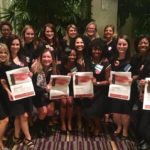 Founded in 2014 by the Junior League of London, the Little Black Dress Initiative (LBDI) is a week-long awareness and fundraising campaign that harnesses the power of social media to illustrate the restrictions poverty places on choices, opportunities, and access to resources. Advocates wear one black dress (or outfit) for five consecutive days, in an effort to spark conversations and awareness about poverty and related issues.
JLA members participate as advocates for LBDI annually in the fall, raising more than $50,000 through the support from donors and individual giving.
Journey to Literacy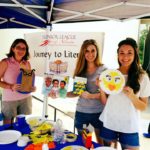 Journey to Literacy is a hands-on literacy program presented throughout the community.  Developed by the JLA in 2009, Journey to Literacy helps raise awareness within the community on the importance of early childhood education and teach parents effective methods to develop and increase early literacy skills.  The program is presented at local libraries and special events presented by community partners.
Kids in the Kitchen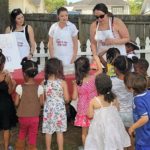 The JLA provides instructional and interactive events that empower youth to make healthy lifestyle choices to help fight the growth of childhood obesity and its associated negative health issues.
Handmade by JLA
Handmade by JLA volunteers work throughout the year to handcraft or assemble a variety of items to provide aid, comfort, and happiness to clients of our community partners. Examples of items made/assembled are blankets for all ages (infant to adult), notecards, tutus, hygiene kits, scarves and hats, and message bracelets.
Community Drives
The JLA conducts drives on behalf of our community partners and distributes the supplies collected throughout the year. Past drives include collection of school supplies, professional clothing items, household items, toiletries, snacks and baby items.
JLA Serves
JLA Serves weekends are held annually in the fall and spring and provide opportunities to bring League members together to make an impact in our community through collective service. Volunteer projects and events are designed with the JLA's members, partners, mission, values and cornerstones in mind, especially in the areas of early childhood education, generational poverty and commercial sexual exploitation and human trafficking.
In addition to direct community exposure, JLA Serves weekends provide an experience that benefits both the members of JLA and JLA's community partners as well as ways to brighten the lives of seniors, youth and others in need.
Community Sampler
Community Sampler volunteers work with community partners on a one-time or periodic basis depending on the agency's needs and volunteer's schedule. This program is well-suited to partners that do not have the capacity or need to support volunteers year-round.