JLA BOARD OF DIRECTORS (2023 – 2024)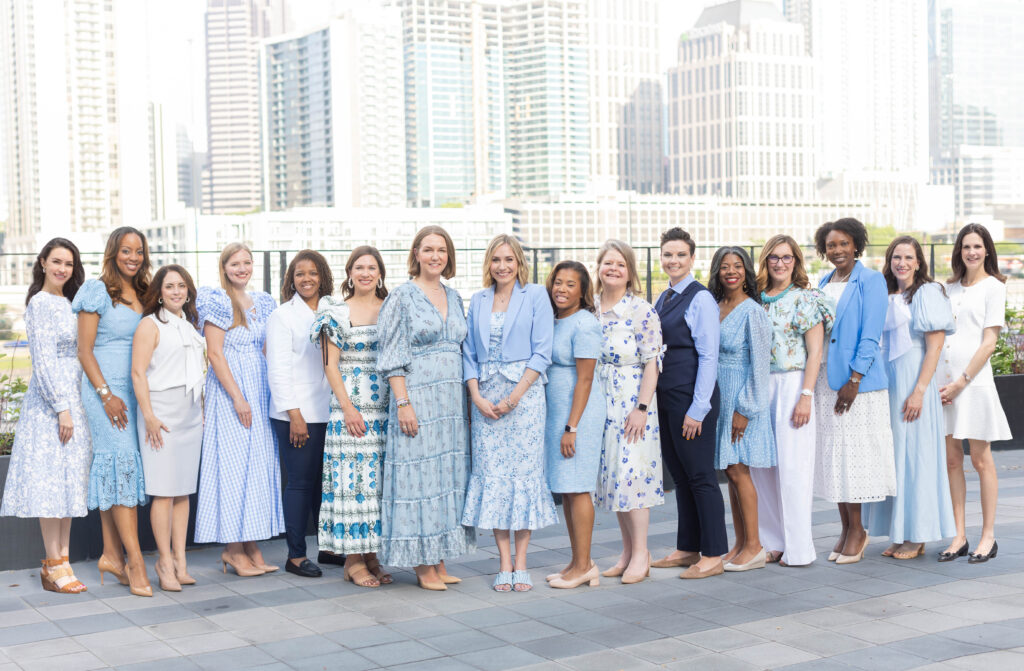 The Junior League of Atlanta, Inc. (JLA) Board of Directors provides vision across our multiple council systems to ensure that all our League programs are consistent with our mission. They guide our strategy according to yearly strategic priorities while serving as trustees and stewards on behalf of our members.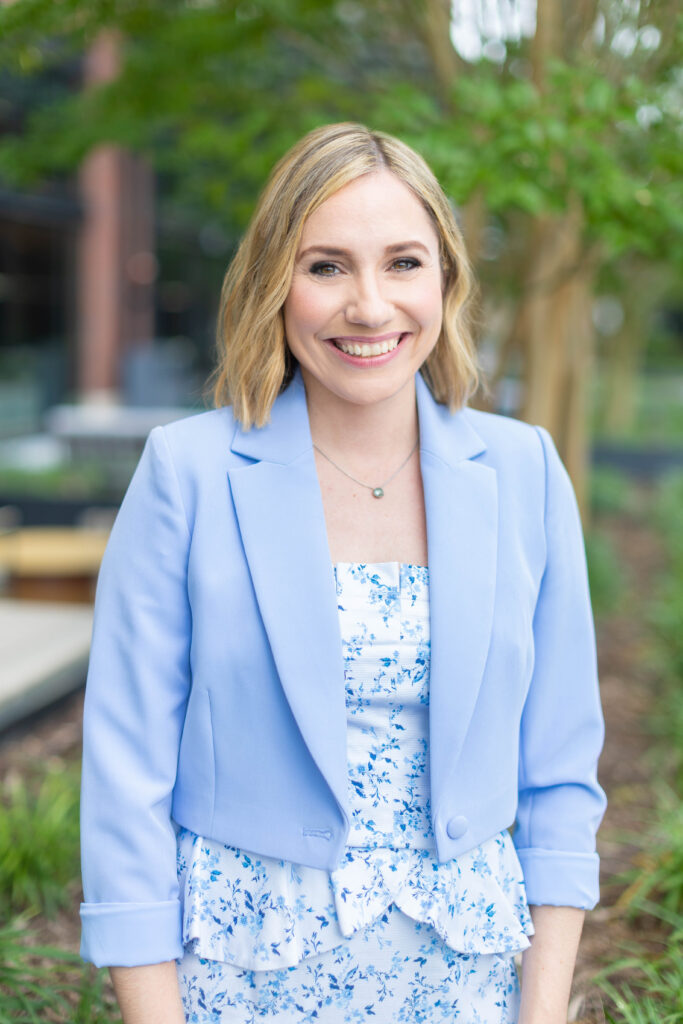 Chris Brodnan
President
president@jlatlanta.org
Chris Brodnan serves as the President of The Junior League of Atlanta, Inc. (JLA). She is honored to serve JLA in this capacity, supporting the mission and vision of JLA to be a catalyst for community change by empowering women who are passionately focused on the health, education, and welfare of women and children.
Chris joined JLA in 2011 and has served on the Public and Political Affairs Committee (PAC), Centennial Gift Committee, and as Chair of the Community Needs Assessment Committee (CNAC), where she led the creation of the JLA Assets and Opportunities map in partnership with Neighborhood Nexus. Her leadership in this initiative was recognized by the JLA's President's Award in 2019. In 2020-21, Chris served as the Vice President of the Advocacy & Initiatives Council and in 2021-22, she served as Advisory Planning Chair.
As an independent consultant at CHB Consulting, Chris has more than 10 years of professional nonprofit experience in the education and youth development field in Atlanta. Prior to launching her own practice, she worked as the Regional Program Director at Horizons Atlanta. She earned a Bachelor of Arts in Psychology from Emory University and a Master of Public Administration with a focus in nonprofit management from the University of Georgia. Chris serves on the Advisory Board of Neighborhood Nexus, is an active volunteer in her family's church First Presbyterian Church of Atlanta, and her children's schools. Originally from New York City, Chris lives in the Memorial Park neighborhood of Buckhead with her husband, Matt, and two young children, Jack (6), and Kathryn (2).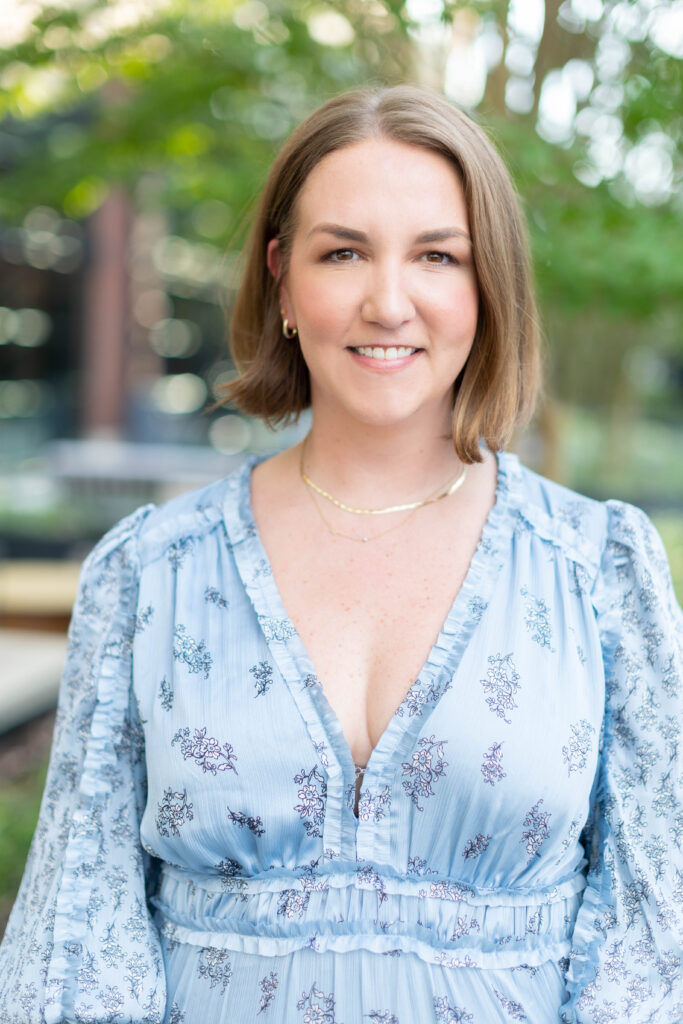 Chelsea Ulrich Tarnoff
President-Elect
president-elect@jlatlanta.org
Chelsea serves as President-Elect of the Junior League of Atlanta, Inc. She is honored to serve JLA in this capacity, supporting the collective mission and vision of JLA, while working alongside President Chris Brodnan, the Junior League of Atlanta's Board of Directors, and all JLA members to be of service in the Atlanta Community. 
Chelsea has been a member of the Junior League since 2014, previously serving with the Junior League of Boston and on the Junior League of Atlanta Board of Directors as Vice President of Internal Operations and Director of Impact and Measurements. 
Chelsea is a Manager at Deloitte within the Human Capital Consulting practice and brings an array of experience in business operations, strategy, human capital, and talent management through her work in local and national organizations and across start-ups, non-profits, and government entities. In addition to her board service with the Junior League of Atlanta, Chelsea serves on the Board of Trustees at the Atlanta Girls School, as well as a founding Board Member and Treasurer for SEWN, a nonprofit arts organization based in Georgia. She holds a B.A. from the University of Texas at Austin, an M.Ed. from Georgia State University, and an Ed.S. from the University of Georgia.
Chelsea lives in Kirkwood with her husband, Nick, her daughter, Eleanor, and her three dogs, Walker, Rudi, and Otis.
---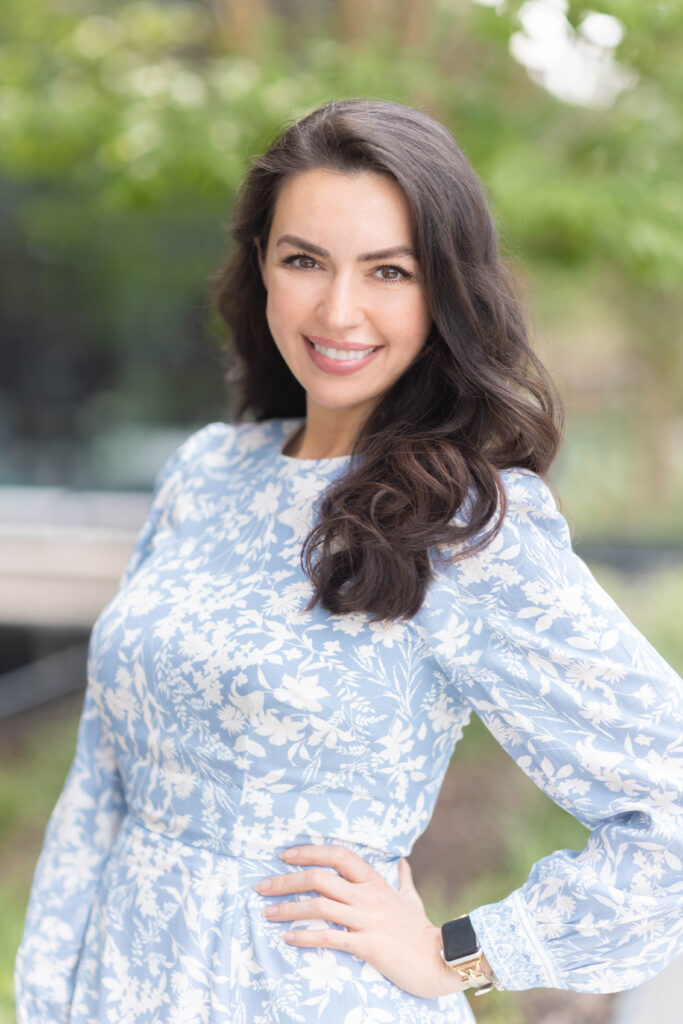 Jessica Wallace
Advisory Planning Chair
ap@jlatlanta.org
Jessica Wallace serves as the Chair of the Advisory Planning Council for The Junior League of Atlanta, Inc. (JLA).
In this role, she leads JLA's vice president-elects (VPE) as they plan and work cross-collaboratively to ensure JLA remains a strategic, impactful, and data-informed organization. She guides and advises the VPEs as they develop a keen understanding of JLA's governance and bylaws, and prepare for service on the Board of Directors during the 2024-2025 League Year.
Jessica has been a member of the Junior League since 2015, previously serving with the Junior League of Nashville for two years before transferring to the Atlanta league. She has served in various roles including Tour of Kitchens, Leadership Retreat Chair, Little Black Dress Initiative Chair, and most recently on the Board of Directors as the Director of Impacts and Measurements where she led the data collection and analysis to support development of a new 5-year strategic plan.
In addition to her JLA roles, she has served in leadership roles within her neighborhood association, Atlanta Junior Chamber, United Way Young Leaders Society, Make-A-Wish Georgia YPs, and the Bama in Atlanta alumni chapter. She is a graduate of Atlanta Women's Foundation's Inspire Atlanta Class of 2020 and proudly supports numerous nonprofits in the community.
Jessica works professionally as a national sales manager and has received both Bachelor of Science and Master of Arts degrees in International Business Management from the University of Alabama. She lives in the Ormewood Park neighborhood and enjoys traveling, Peloton rides, and cheering on her beloved Crimson Tide.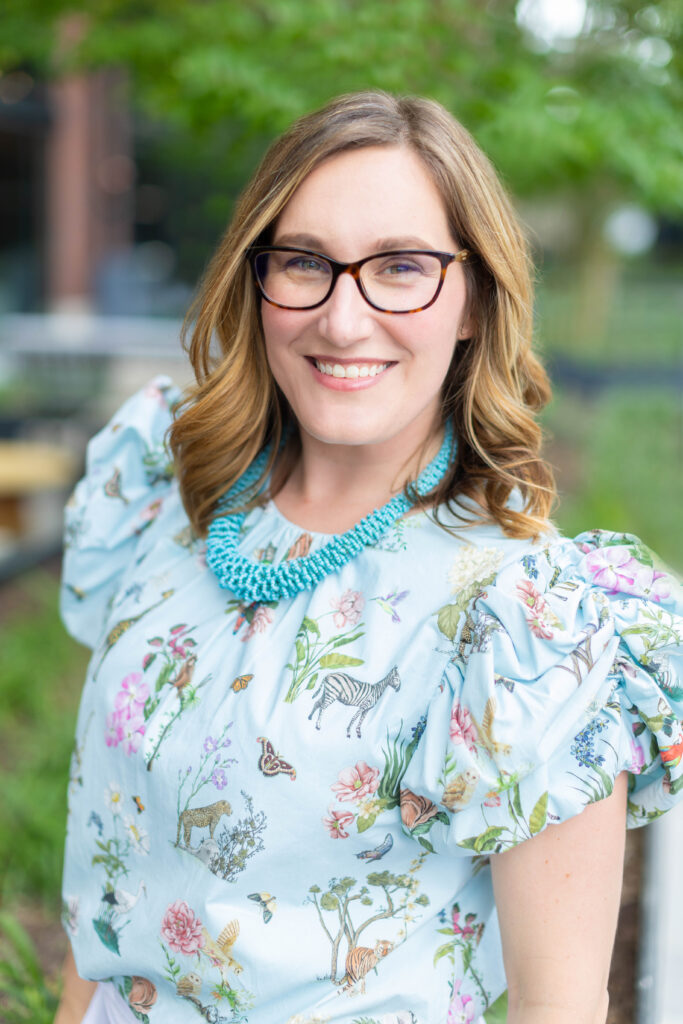 Shawn O'Neill
Advocacy & Initiatives VP
advocacy@jlatlanta.org
Shawn B. O'Neill is a marketing and communications executive and graphic designer with 15 years of experience who provides long-term vision, empowering leadership, innovative solutions, and strong interpersonal relationship skills. 
An Atlanta Business Chronicle 2012 Employee of the Year, a member of the Leadership Buckhead class of 2019, an YWCA Georgia Women's Policy Institute fellow in 2020, and awarded the Association of Junior League's International Fundraiser of the Year Award in 2017, her work includes branding, design, copywriting, social media management, community and client relations, strategic planning, and integrated communications, all with a proven record of accomplishment.  She is the President of Soffritto PR, a boutique marketing and communications agency that works with clients to create a happier, healthier, and better-connected community.  
As a firm believer in public service, Shawn volunteers her spare time with Big Brother Big Sister Atlanta, The Junior League of Atlanta, Inc., Girl Scouts of Greater Atlanta, and the Georgia Beekeepers Association. A dedicated foodie, Shawn loves to garden and tend to her backyard beehive.  Her true passion is traveling around the world experiencing new cultures and cuisines while working on the goal of visiting all seven continents before she turns 40.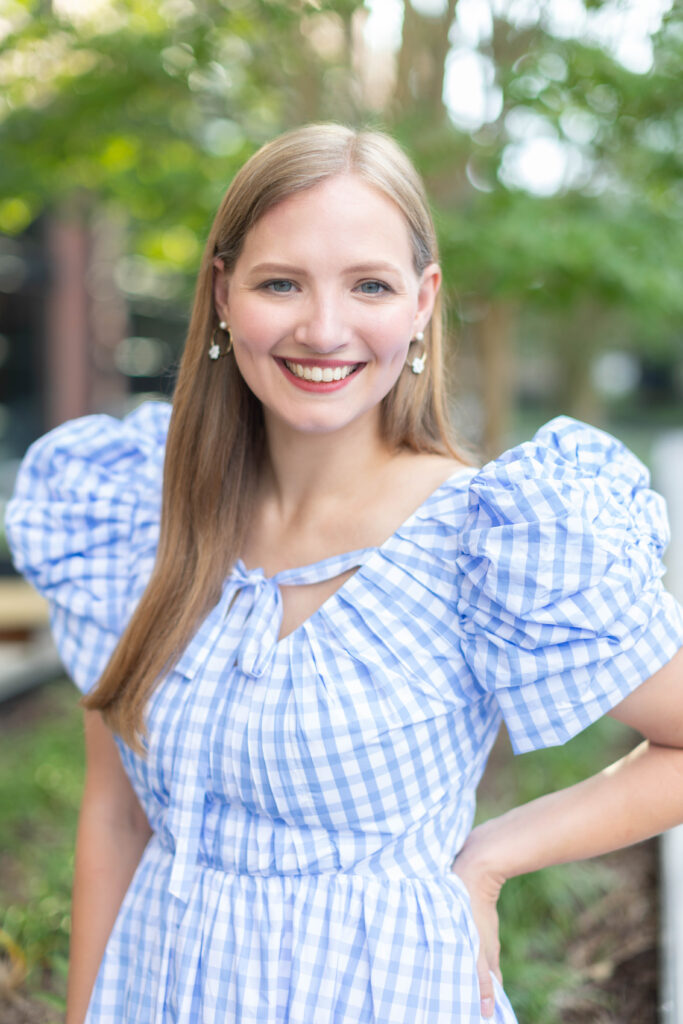 Christina Austin
Community Impact VP
communityvp@jlatlanta.org
Christina Austin Smith serves as Vice President, Community Impact, and leads The Junior League of Atlanta, Inc.'s (JLA) direct service efforts through community partnerships. The Community Impact Council plans and manages community placements, which consist of dedicated, trained volunteers and activity funding; individually scheduled and varied hands-on service activities through Done in a Day; in-kind donations through Community Drives and Handmade by JLA; and niche service activities offered to a variety of partners through Journey to Literacy and Community Sampler. The Community Impact Council also evaluates community partner and placement applications; requests for service and/or funding; and manages related contracts. In this role, Christina encourages and empowers Community Impact Council leaders to collaborate across all areas of the JLA and with community partners to ensure members have meaningful volunteer experiences and partner organizations have mutually beneficial engagement and service experiences.
Christina is an Atlanta native and has a passion for addressing the unique needs and inequality found in our city. She joined the Junior League of Atlanta in 2018 and received the Mission Matters award her provisional year. She then served as a community volunteer, where her leadership as a Placement Chair was instrumental in earning her group the 2022-2023 External Committee of the Year award. 
In her spare time, she loves reading, traveling, attending concerts, and spending time with her husband Ingram and their many pets.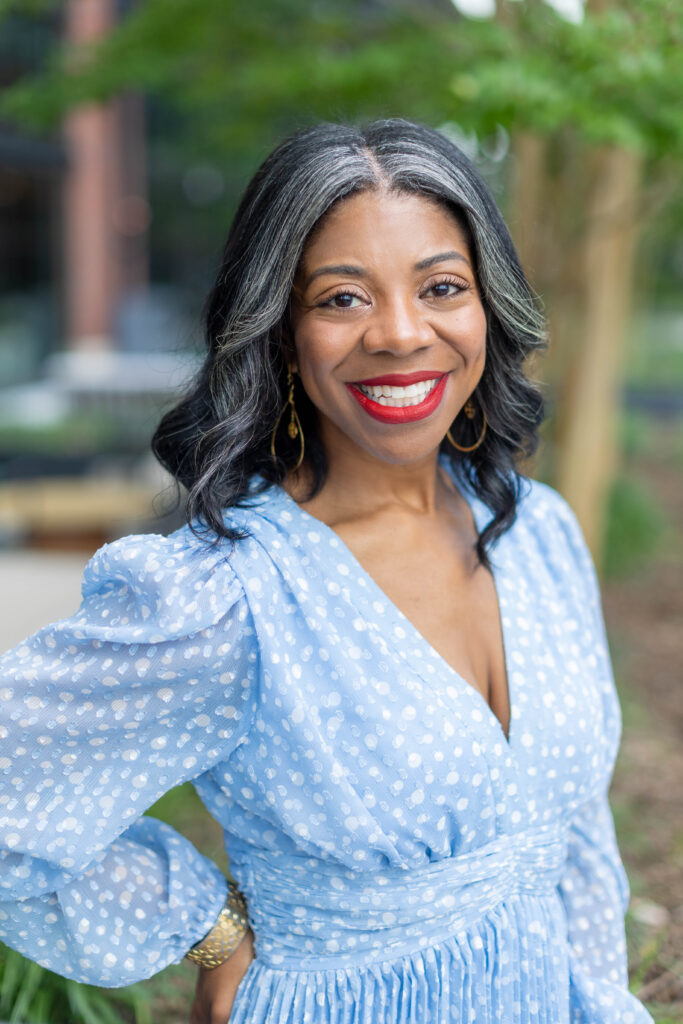 Ciji Townsend
Fund Development VP
development@jlatlanta.org
Ciji Townsend serves as the Vice President of Fund Development for the Junior League of Atlanta, Inc. (JLA) and is excited to collaborate with council members to execute meaningful mission driven fundraisers throughout the league year. 
Ciji joined JLA in 2010 and started her leadership journey on the Marketing Council as Director of External Communications. She has served on the Learning & Development Council as a Fundamentals committee member, Leadership Retreat Co-Chair and Leadership Institute Committee. She's also served on the Membership Council as the Sustainer Engagement Director and Director of Membership Strategy & Engagement. And on the Fund Development Council as ShamRock 'N Roll race chair and on the Community Council as the Marketing coordinator. She briefly relocated to Louisiana and transferred into the Junior League of New Orleans. Additionally, she's passionately volunteered at Boo at the Zoo during JLA Serves weekend for the past 7 years.
Ciji is passionate about her community and has served as the President Emeritus of the Urban League of Greater Atlanta Young Professionals. She is a graduate of LEAD Atlanta, New Leaders Council Louisiana, Leadership Buckhead, and Leadership Georgia. In 2019 she was inducted into Outstanding Atlanta and served as the 2021 President. Most recently served as the Secretary and Treasurer of the Blandtown Neighborhood Association and is currently a room parent at Atlanta International School.
Professionally, as a Director of Public Affairs at Cox Communications, she solves problems, provides counsel, and executes strategic communication tactics. She's also the founder of Balanced Not Busy – a space to radically advocate for rest. She shares ways to prioritize well-being as a content creator, public speaker and host of the being Balanced podcast.
Ciji is a graduate of Clark Atlanta University with a Bachelor of Arts in Mass Communications with a concentration in Public Relations. She lives in Blandtown/Upper Westside with her husband Travis and children, Tripp and Trinity Lacey and is an avid reader, fitness enthusiast and DIY creator.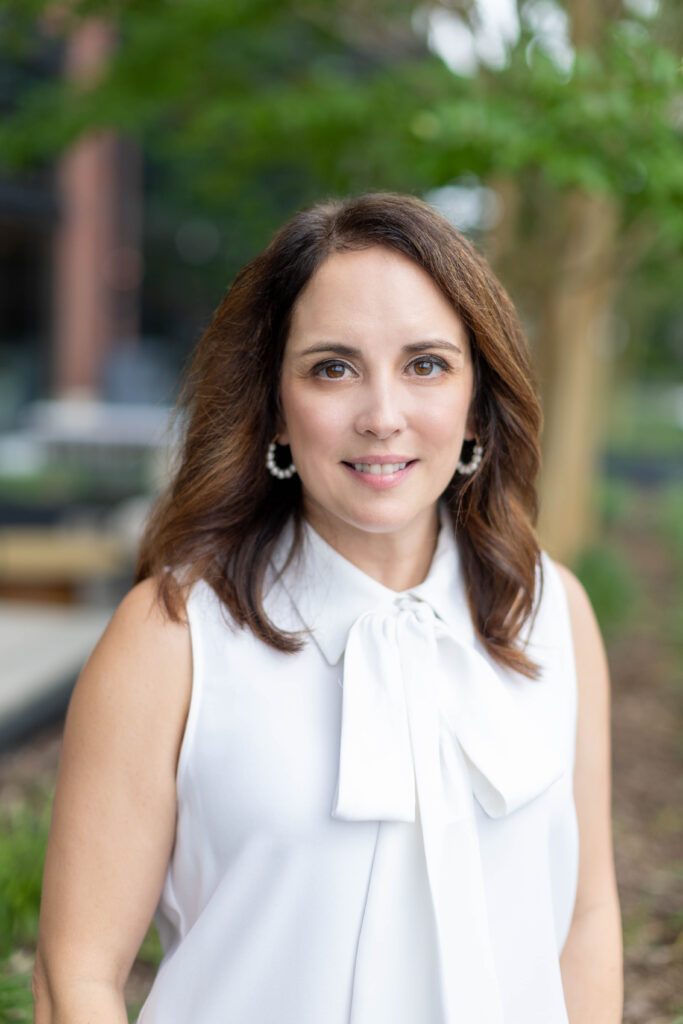 Tara Craighead
Internal Operations
internaloperations@jlatlanta.org
Tara Craighead, Vice President of Internal Operations of the Junior League of Atlanta, Inc.  The Internal Operations Council provides the structure and tools that help the JLA operate. The Internal Operations Council develops the JLA's annual operational plan, monitors league spending and provides monthly financial report to the Board of Directors. 
Tara grew up in Brandon, Mississippi and attended the University of Georgia for her undergraduate degree in Marketing/Business and Journalism.  She moved to Atlanta after graduation and shortly thereafter joined the Junior League of Atlanta in 2011.  She has served on Chastain Horse Park, Fund Development, Marketing, Advocacy and Initiatives and was VP of Fund Development in 2020-2021. In 2017 Tara graduated from Georgia State with her MBA.
Currently Tara is the Director of Operations for the Society of Clinical Psychology, Division 12 of the American Psychological Association and Owner of barre3 Druid Hills.  She has a passion for fitness and enjoys running.  She lives with her husband, Wade and sons, Sawyer, 7, and Bodie, 2.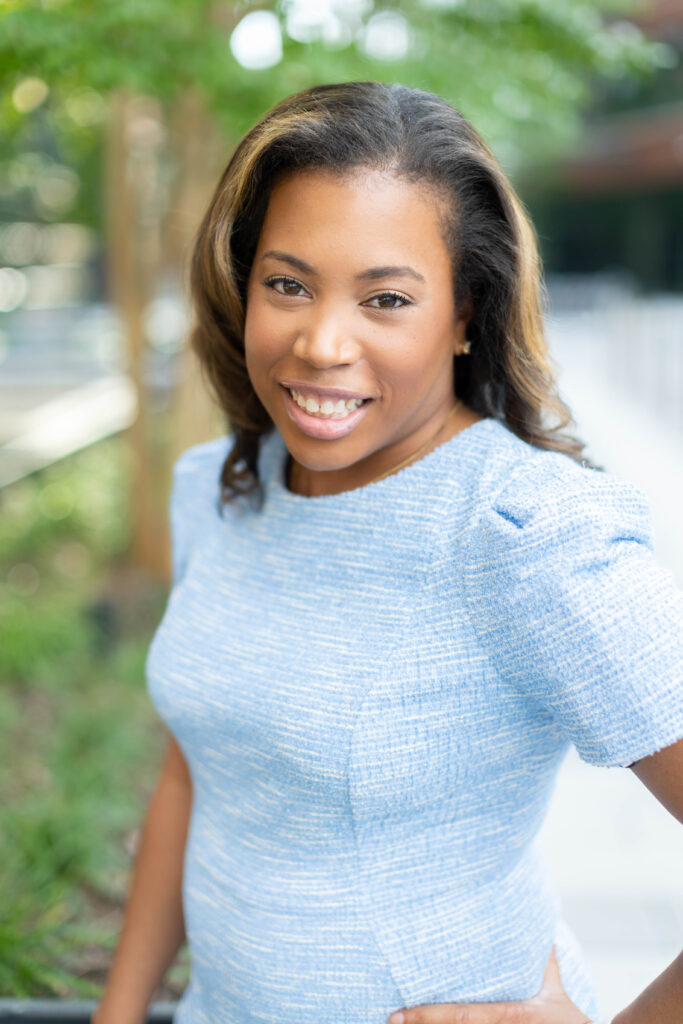 Jewel Hazelton
Marketing and Communications VP
marketing@jlatlanta.org
Jewel is the 2023-2024 Vice President of Marketing and Communications and a member of the Board of Directors. In her role, she leads a team of talented creative storytelling professionals who are passionate about spreading the word about the mission and profound impact of the Junior League of Atlanta (JLA) has made within our community.  Jewel's involvement with the Junior League of Atlanta began in 2013, and since then, she has held various leadership positions including Fundamentals Co-Chair, Membership Recruitment Events Chair, District Advisor, First Year Active Advisor, and Provisional Advisor.
Professionally, Jewel works in the non-profit association industry overseeing membership relations and content strategy. She has worked in the communications industry for more than 15 years where she's led integrated marketing strategy for Fortune 500 companies, non-profit organizations, and the countries top hospitality establishments. Recognized as a rising leader n the Association Industry, Jewel was the recipient of the ASAE-USAE 2022 Travel Scholarship and the Association Forum 40 under 40 award. 
She's also the Founder and Editor of After Sunday Dinner, a lifestyle blog she launched in 2010, where she gives readers a glimpse into her daily life, love of food, fashion, wellness, & things to do around Atlanta. 
Driven by a passion for community engagement and making a positive impact, Jewel has always prioritized getting involved and giving back. Her extensive experience in the non-profit sector has provided her with a unique perspective, having worked as both a non-profit employee and a dedicated volunteer.
Jewel holds a Master's Degree in Integrated Marketing Communications from West Virginia University and a Bachelor of Arts in Communications from the University of Alabama. As an Atlanta native, she currently resides in the Buckhead neighborhood with her beloved Cockapoo, Pebbles. In her leisure time, Jewel enjoys indulging in her culinary skills, exploring the great outdoors with her dog, keeping up with the latest fitness trends, immersing herself in Atlanta's rich cultural offerings, taking trips to the nearest ocean, and cherishing moments with her loved ones.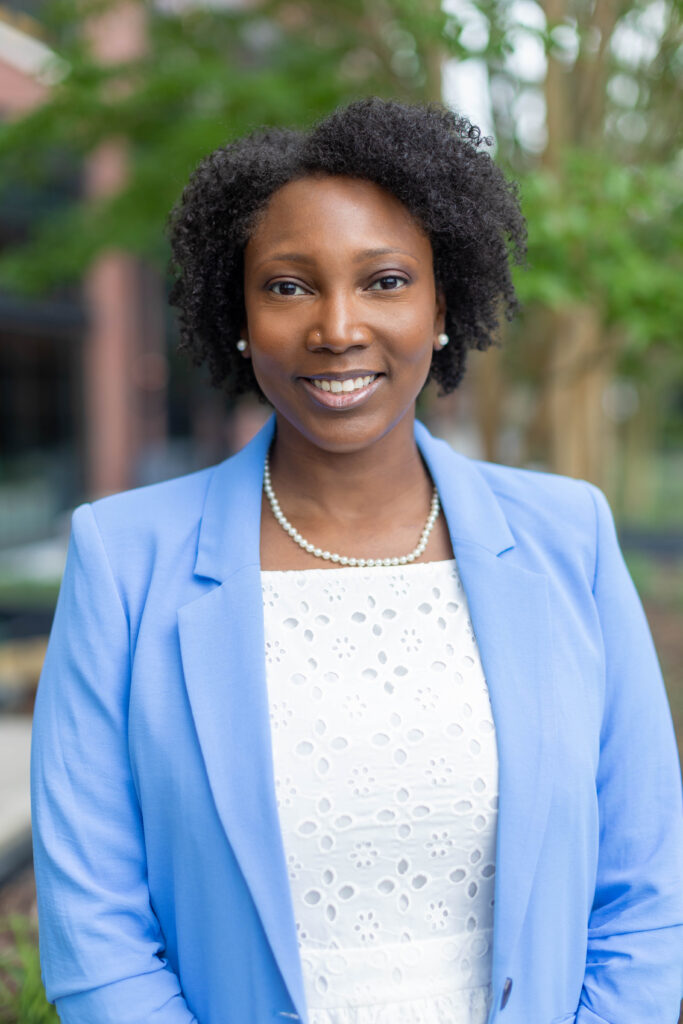 Cassandra Frazier
Membership VP
membership@jlatlanta.org
Cassandra Martin Frazier serves as the Vice President of Membership for The Junior League of Atlanta, Inc (JLA). In this role, she leads the Membership Council, which is responsible for membership outreach, ensuring new members establish a strong JLA foundation, and fostering connections among members through collaborative efforts with other JLA Councils. She is honored to serve the JLA in this capacity and to work alongside incredible, thoughtful leaders passionate about creating a meaningful member experience.
Cassandra's JLA journey began when she joined in 2008. She has held a variety of roles and leadership positions, including serving as JLA's representative to the Georgia Infant-Toddler Coalition, Georgia Radio Reading Service Committee Co-Chair, Assistant to the Vice President of Advocacy and Initiatives Council, and Peachtree Papers Magazine Editor. For several years, she chaired JLA's Early Childhood Education Committee, which led efforts to promote, advocate, and train on the vital need for quality early education for children and families in the Atlanta area. As part of her work with JLA, she used her volunteer training within the community, including as an Atlanta Early Education Ambassador through JLA community partner, GEEARS: Georgia Early Education Alliance for Ready Students.
Cassandra's heart for service reflects her career as a public health professional. As a health scientist and program evaluator, she focuses on strengthening the public health infrastructure through data, workforce development, and community engagement to advance health equity and improve the health and well-being of all people. A proud Historically Black College and University (HBCU) alum, she received her Bachelor of Science from Alcorn State University in Mississippi. In addition, she earned a Master of Public Health from Emory University in Atlanta, GA. She is an active member of Alpha Kappa Alpha Sorority, Inc. (Rho Zeta Omega chapter). In her free time, as a member of the Seed and Feed Marching Abominable Band, Cassandra enjoys spreading joy through music. She also enjoys exploring the city and traveling with her husband, Vernon, and two sons, Eben (12) and Eli (4).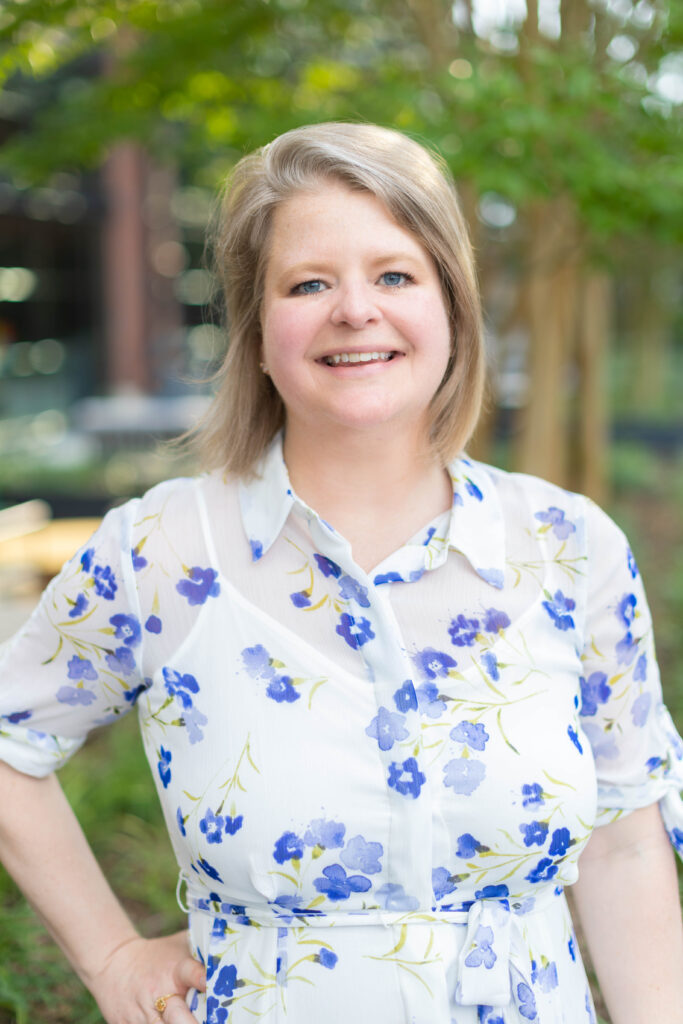 Erin Cannaday
Nominating Chair
nominating@jlatlanta.org
Erin Cannaday serves as Nominating Chair for the Junior League of Atlanta, Inc. (JLA). In this role, she leads the Nominating Committee in the selection and placement of women into leadership positions across the organization and helps to ensure that the organization is equipped with the best talent available to move the mission of JLA forward.
Erin is a Florida-native and a "legacy" member of the Junior League, following in the footsteps of her mother and grandmother, who served as a President and Secretary, respectively, with the Junior League of Clearwater-Dunedin. She joined the JLA in 2014 and has served in a variety of internal and external placements including Vice President of Marketing, Shamrock 'N Roll Road Race marketing lead and co-chair of logistics; Tour of Kitchens; Community Sampler; and graphic designer.
In her spare time, Erin enjoys traveling and exploring new places, learning vegetarian and vegan cooking styles, working with small businesses as a freelance graphic designer and branding consultant, and has developed a love for yoga and spin classes. Erin has nearly 20 years of corporate philanthropy and communications experience through her roles with American Cancer Society, The Home Depot Foundation, Invesco, Emory Healthcare and Wellstar. Currently, she serves as Executive Director of Foundation Strategy and Communications with Wellstar Foundation, the philanthropic arm of Wellstar Health System. Erin has a Bachelor of Arts Degree in Event Management and Hospitality from the University of Florida. She has lived in Georgia for 15 years and currently resides in Atlanta's Grant Park neighborhood with her dog, Kona.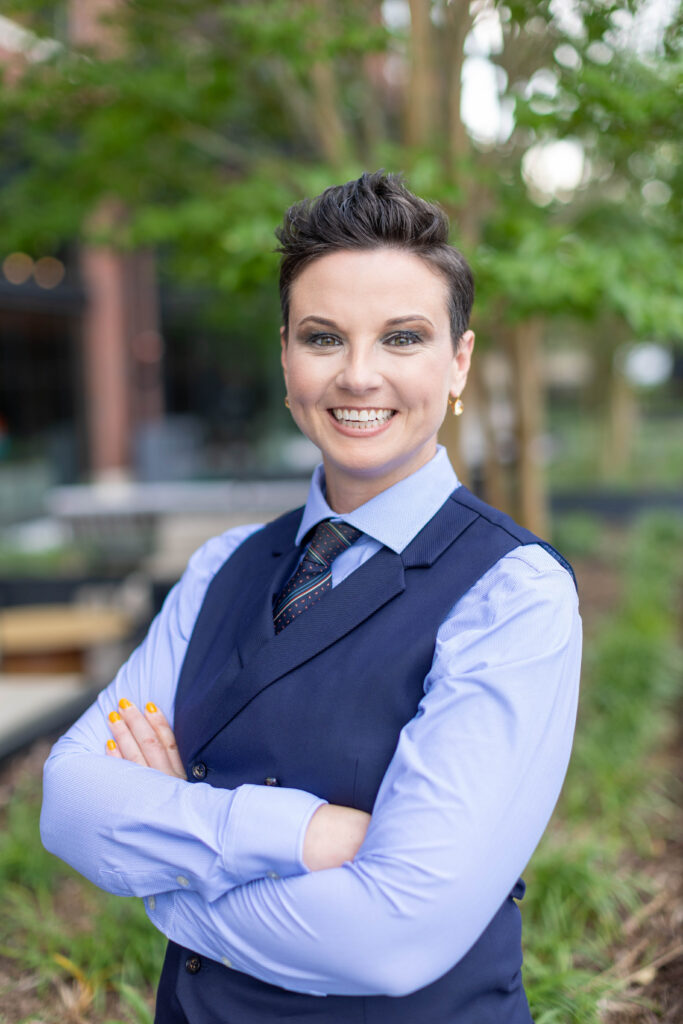 Sara Wolicki, MPH, she.her
Director of Diversity, Equity & Inclusion
sarabethwolicki@outlook.com 
Sara Wolicki is the Junior League of Atlanta's Director of the Diversity, Equity, and Inclusion Committee. Sara joined the League in 2019 to combine her community volunteering while connecting with other ATLiens who are passionate about making Atlanta more equitable. Along with Junior League, her volunteer resume includes 8+ years as a coach with Girls on the Run, 3 years and counting of weekly academic tutoring with Bloom Our Youth and Atlanta Mission, 2+ gallon blood donor, and 4+ years of being a cat foster mama and finding amazing homes for over 100 kittens! 
Sara works as a Health Scientist. She is a fierce champion of diversity, equity, and inclusion both at work and in the League. She is a past president of her employer's organization for LGBTQ+ colleagues and allies. Sara likes cake donuts, riding her bike, and the hot Georgia summers. Please feel free to connect with Sara via email or LinkedIn.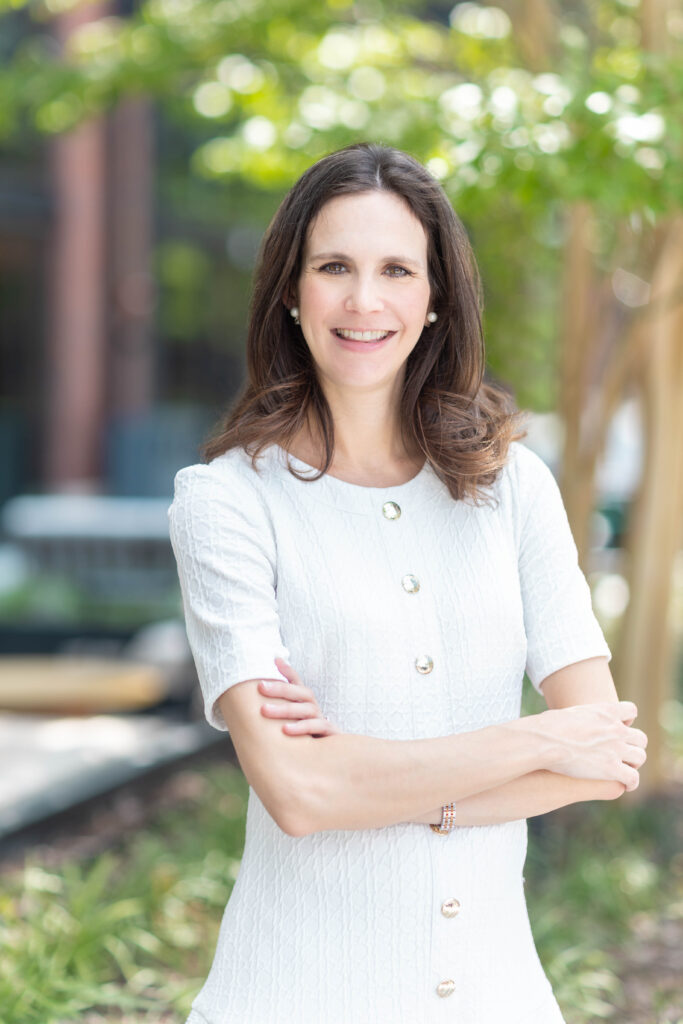 Sarah Cadagin
Director of Impacts and Measurements
impacts@jlatlanta.org
Sarah Cadagin is the Director of Impact and Measurements (I&M) of the Junior League of Atlanta, Inc. I&M develops, measures, and tracks quantitative and qualitative data to best show the League's impact in the Atlanta community. I&M also ensures the League is meeting and aligning with strategic planning goals, and annually assesses membership satisfaction and experience. 
An Atlanta native, the JLA has long had an important place in Sarah's heart as her younger sister both attended and taught at the Atlanta Speech School, founded by the JLA. Sarah joined the JLA in the fall of 2014 after returning to Atlanta after many years in Washington, D.C. Sarah served for several years in the JLA-sponsored Estrellitas, a mentoring program for Latina middle-school and high-school girls; was chair of the Public and Political Affairs Committee; and most recently was Vice President of Advocacy and Initiatives.
A professor of art history at the Atlanta campus of the Savannah College of Art and Design, Sarah received her Bachelors of Art in art history and Italian from Georgetown University and her Masters and Ph.D. in Italian Renaissance art history from the University of Maryland. An enthusiastic cook, lover of wine, keen mystery reader, and avid traveler, Sarah and her husband, Ed, live with their infant son, Eddie, in Ridgewood Heights in Atlanta's Buckhead.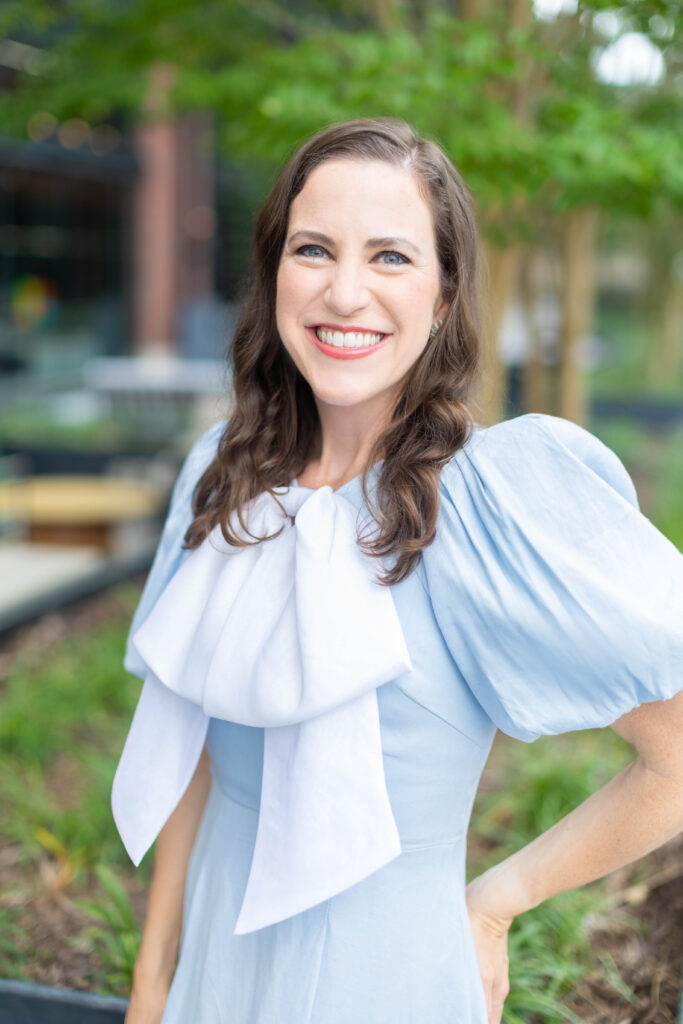 Rebekah Henry Murphy
Sustainer Representative

Rebekah Henry Murphy serves as Sustainer Representative to the 2023-2024 Board of Directors.  In this capacity she provides historic context and training support to the Board, as they govern our organization.  Rebekah served as President of The Junior League of Atlanta, Inc. during its 101st year of service, leading the Board of Directors which developed the 2018-2023 Strategic Plan.  She is a native of Augusta, GA, having first joined the Junior League there in 2006 where she held numerous leadership positions and served on the board for three years before transferring to the Junior League of Atlanta in 2013.  In addition to serving as President of JLA, she served as President-Elect during the League's Centennial year and as Vice President of Internal Operations.   Her Junior League work has extended to the Association of Junior Leagues International (AJLI) where she served three years on a team developing new governance and management models and on a task force developing membership engagement tools.   
As a nonprofit leader, Rebekah has over 15 years of continuous experience as both a nonprofit executive and a community volunteer leader to advance organizations forward in achieving strategic priorities.  She has an established track record of collaboratively developing and implementing strategic plans to advance missions and improve organizational capacity and is highly skilled in developing and facilitating diversified fund development and marketing plans for small and mid-sized nonprofit organizations. Her civic involvement has been focused on education and issues affecting women and children.  She has a deep passion for public education, serving as PTO President of her children's elementary school from 2020-2023.  She is a past Board member of Literacy Action, Atlanta Speech School, and Atlanta Children's Shelter.  She is active in her church, St. Anne's Episcopal Church, having just served as President of Episcopal Church Women. As a former classically trained ballet dancer, she is a lifelong supporter of the arts, member of Atlanta Ballet's Corps de Ballet, and now her favorite title, "dance mom".
She received her Bachelor of Science in Management from Georgia Tech and her MBA from Augusta University.  She is a past recipient of Georgia Trend's 40 Under 40 and the Top 30 Under 30 Nonprofit Professionals in Georgia, and is an alumnus of Leadership Georgia and Leadership Sandy Springs.  Rebekah lives in Sandy Springs with her husband, John P. Murphy, and their three young children – Henry, Eleanor, and William.  In addition to raising her young children and serving the community, Rebekah is the owner of FIT4MOM Roswell Alpharetta Perimeter, a prenatal and postnatal fitness program for mothers.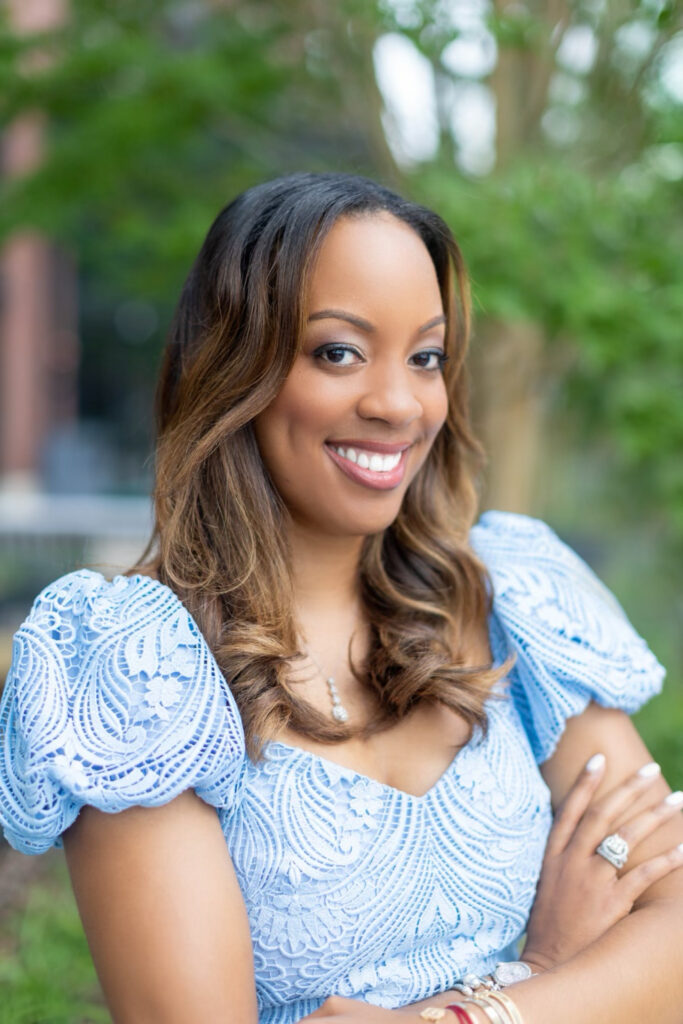 Quiana Riche-Clark
Parliamentarian 
As Parliamentarian, Quiana Riche-Clark, will advise the President and Board members on Parliamentary procedure to ensure meetings are conducted in an efficient manner. She will also assist in the planning and steering of business to be introduced at meetings. 
A native of Huntsville, Alabama, Quiana joined the Junior League of Atlanta in 2012. Upon completion of her first year, she was named Provisional of the Year. She has served as the Kids in the Kitchen Committee Chair, Provisional Education Development Chair, Presidential Operations Committee Chair, and Fundamentals Committee Chair. She also served on the Junior League of Atlanta's 103rd Board of Directors as the Assistant to the President and the 105th Board of Directors as the Nominating Committee Chair.
Quiana is a graduate of Spelman College and Atlanta's John Marshall Law School. She is a member of Alpha Kappa Alpha Sorority, Inc. and resides in the suburbs with her husband and their two standard poodles, Belvedere and Barron. In her spare time, Quiana enjoys spending time with family, traveling, shopping, dining out and cheering on the Crimson Tide!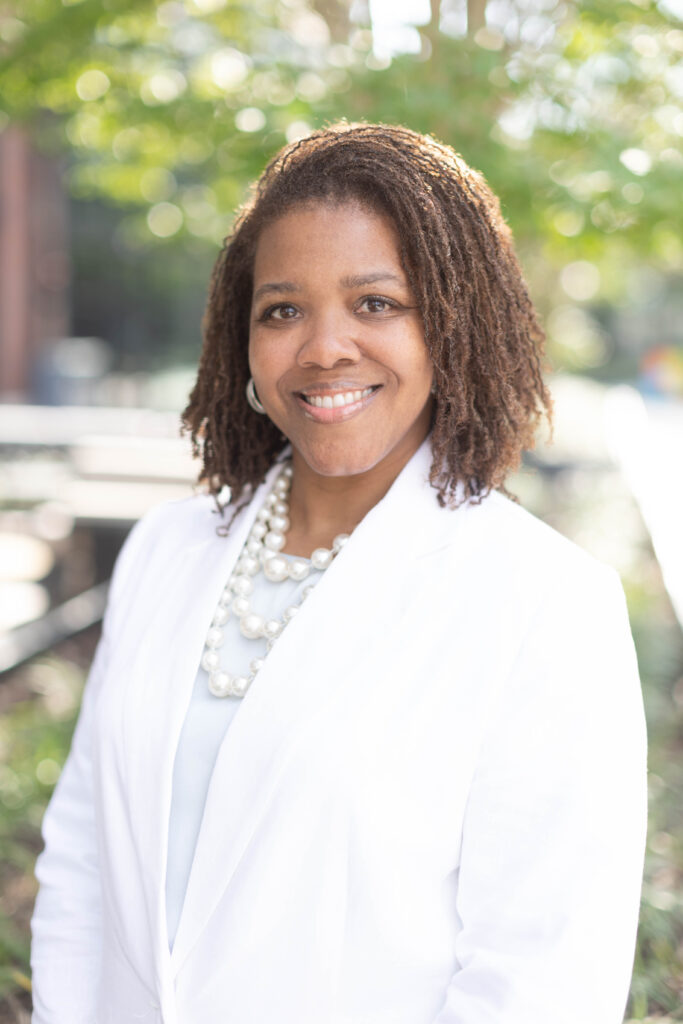 Monica Nixon
Recording Secretary
Monica Nixon serves as the Recording Secretary for the Junior League of Atlanta, Inc.  Since she joined the Junior League of Atlanta in 2013, she's served in various internal and external placements, with councils such as Membership, Community, and Marketing. Her favorites, to date, have been the Centennial Gift committee during the Junior League of Atlanta's 100th year and the Donor Advised Fund committee, where she served the last two years. 
Professionally, Monica is an Assistant Director in Corporate Responsibility at EY. In her role she provides strategic direction to more than 30 community engagement teams around volunteerism and charitable giving, and ensures strategic alignment to global corporate responsibility commitments and focus areas.  
As one of four daughters, Monica has a natural passion to support women and girls. She has been known to fundraise through family and friends to host special events such as life-skills workshops and tea parties for women/girls shelters in the Atlanta area. She also currently serves as a mentor with Atlanta GLOW. When she's not spending time with her husband and her three-year-old labradoodle, Monica enjoys quiet moments with a journal, a book or a good writing-related podcast. She also loves to spend time with family, a good trip to the beach, and opportunities to connect with friends – old and new.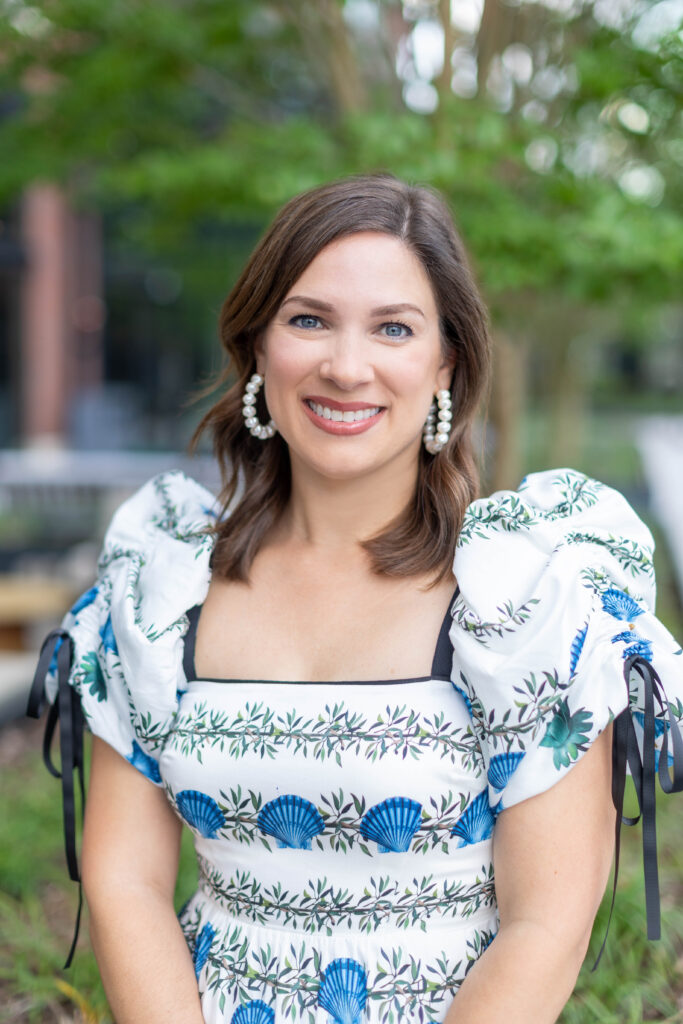 Fran Cowart
Assistant to the President
Fran Cowart serves as the assistant to the president. Fran has been a member of the Junior League of Atlanta since 2011, serving in various placements in the community, Learning and Development, Marketing and Communications, President's Helping Hands, Impact and Measurements, and Recruitment and Outreach. Fran spent ten years working in research and evaluation at the Southern Regional Education Board and Girl Scouts of Greater Atlanta. She is now the research lead at Greenway Strategy Group, assisting social impact organizations to direct and implement their strategy toward the most critical outcomes for those they serve.
Fran enjoys volunteering at her kids' schools in many capacities. She is also involved at Lighthouse Family Retreat and City of Refuge. She is active at Buckhead Church and is a member of her neighborhood garden club. Fran enjoys spending time with her friends and family, traveling, and exploring great restaurants in Atlanta.
Born and raised in Birmingham, AL, Fran graduated with a degree in political science from Furman University in Greenville, SC. She lives in the Springlake neighborhood of Buckhead with her husband, Jay, and two children, Patrick (7) and Claire (5).