Unprecedented Times Call for Unprecedented Gratitude
By Charlotte Terrell, Talent Management Specialist and Past President of The Junior League of Atlanta, Inc. (2003-2004)
This year has been one like no other. It started as most do with celebrations of a new year and the innumberable possibilities that await.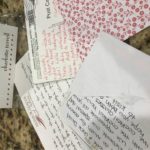 Then COVID-19 happened, and we didn't have a clear idea of what tomorrow would bring much less the year's remainder. As days of sheltering in place turned into weeks and months, social distancing became the norm instead of the casual interactions with friends and neighbors. With the darker days of winter and the holiday season approaching, those that are suffering from the mental effects from the pandemic may find their feelings amplified even more than an ordinary year.
This article was first published on Saporta Report. Click here to read full article.